1977

DATE INDEX
NOVEMBER
DECEMBER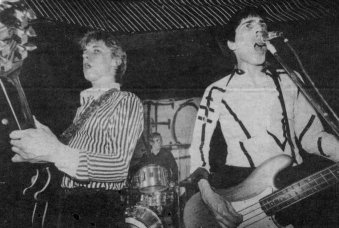 Tonight and Tomorrow nights sets at the Vortex Club are being recorded for a 'Live' album due out in December. It's called funnilly enough 'Live At The Vortex.' All the bands booked make an appearance on the album.
THE WASPS
BERNIE TORME
MANIACS
NEO
MEAN ST
THE SPITFIRE BOYS
formed only five months ago in Liverpool release their debut single out on ROK Records. The single is "Mein Kampf ' b/w "British Refugee." The songs are both originals. The group is Zero on bass (Pete Griffiths), Maggot (Paul Rutherford) on vocals, Jones (Dave Littler) on guitar and a drummer named Blister (Budgie). They enjoy playing uptempo punk. Two of their "punk" names make sense in a sideways manner. "Blister" has blisters from incessant drumming and "Jones" wanted to be another David Bowie (Davie Jones) . From the group, Blister (aka Budgie, ne' Peter Clark) will join a variety of bands eventually finding lasting employment and marriage as the drummer for Siouxsie & The Banshees. Maggot (aka Paul Rutherford) will find the spotlight in '83 as one of the vocalists for Frankie Goes To Hollywood.
THE SPITFIRE BOYS: 'British Refugee' (RK1001).
Funny name, I thought. Funny song as well. Is it a joke? Usual Rotten vocals with a somewhat sophisticated guitar lick. Will anyone ever hear this? It's just an in-between punk / rock record destined for oblivion. Perhaps a picture cover would help next time to clarify the group's intentions.
(Record Mirror October 22nd 1977)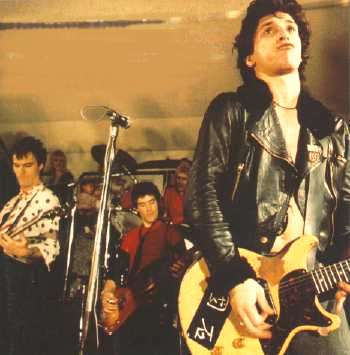 Top Rank, Southampton
After having no luck with a suitable drumming replacement Jerry Nolan re-joins, but with a terse statement saying that it's 'as a hired musician, not a member, and on a temporary basis.'

University, Exeter

The Rat Club, Boston, USA
Rebeccas, Birmingham




WIRE

Nashville, London

Marquee, London




NEW HEARTS

Southside Club, London