1977
DATE INDEX
NOVEMBER
DECEMBER

make their debut on United Artists with the provocative "Orgasm Addict.' They can't reeeeealy think that the BBC is going to play this, can they? It's paired with "What Ever Happened To?" Although the single will never even touch the charts, it'll remain one of the Buzzcocks more memorable songs with it's breathless excited chorus. Among the celebrations with the release, original bassist Garth has been fired just prior to their UK tour. He had been antagonizing Pete Shelley all day in Liverpool yesterday and the two had to be dragged apart at times. Garth had reportedly been drinking heavily and a friend of the support group had to fill in on the soundcheck. When time came to play, he dropped his bass onstage and left, leaving the others to carry on without him and that's just what they intend to do. The Buzzcocks have also just found out that their date for Wigan on November 17th has been cancelled by local police. The Wigan Council had enforced a new ban including any punk shows, especially at the Northern Soul mecca Wigan. Casino.
BUZZCOCKS 'Orgasm Addict' (UA)
AFTER THEIR appearance on The Clash's White Riot tour, Buzzcocks were courted by all the majors. Andrew Lauder's United Artists imprint won out. Sessions began in rowdy, late July 1977 at Indigo Studios in Manchester, though the spumatic single version of Orgasm Addict wasn't nailed until September, when Martin Rushent recorded the band at TW Studios, Fulham. The song - a joyous paean to masturbation written in the summer of '76 - was primarily Pete Shelley's, though Howard Devoto penned most of the verses, the "women who put the robins on the Christmas cake" referring to a job he'd had at a bakery. Its wonderfully smutty subject matter made it a brave but commercially suicidal release; its opening couplet "You tried it only once and found it alright for kicks/Now you've found out that it's a habit that sticks" is simply genius.
Writers: Pete Shelley, Howard Devoto Producer: Martin Rushent Personnel: Shelley (gtr, vcs), Steve Diggle (gtr), Garth Davies (bs), John Maher (drs)
(Mojo Mag October 2001)

are a new bunch of Mid-Western misfits and one Californian minx who formed in the bowls of New York's CBGBs one day after Haloween 1976. They are currently in Memphis recording their debut session at Ardent Studios. They cut an original song called "Human Fly" as well as covers of Jack Scott's "The Way I Walk," Sam Phillips' (the founder and owner of Sun Records) "Domino" and the Trashmen's 1964 surf classic "Surfin' Bird." The Cramps are a strange bassless psychobilly quartet consisting of Bryan Gregory - guitar, Lux Interior - Vocals, Nick Knox - Drums and Ivy Rorschach -Guitar. They mix rockabilly and jungle voodoo music with a theatrical punk outlook. Real; wackos. These recordings won't see the light of day till April 1978 on their own Vengeance666 label 45's and on 1979's Gravest Hits 12" release.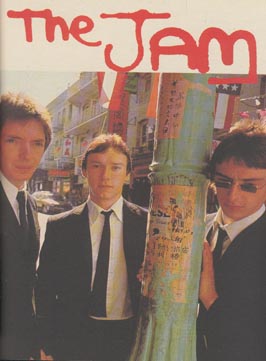 start their first exploratory stab at the US tonight. They're making two night stop at the Whiskey A Go Go, Sunset Boulevard in Hollywood. They will also visit The Rat Club in Boston and finish off at New York's CBGB's. This blitzkrieg visit is made even more of a grueller by the fact the band had only one suit each for the next 16 shows and no dry cleaner on tap.
SKREWDRIVER
have another in-your-face single out on Chiswick Records today. It's their anthem "Anti-Social" b/w a version of The Rolling Stones "19th Nervous Breakdown." The band have also acquired a new guitarist named Ron Hartley and they are now starting to move to a Sklinhead image so this pix already outta date.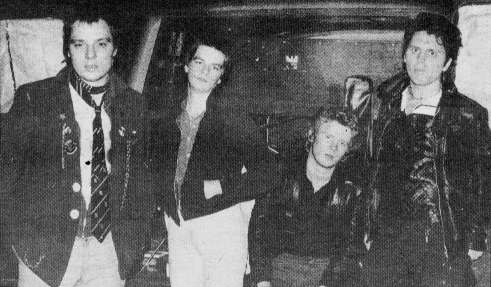 Ronneby, Sweden




Barbarellas, Birmingham

Bangor University, Bangor




Roxy, London




WIRE

Red Cow, London