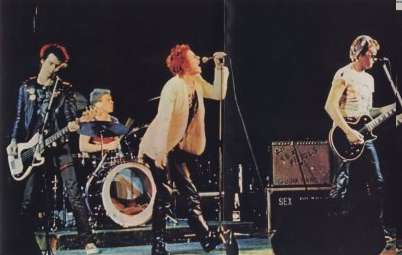 latest single hits stores today. It appears to the outside world that the Pistols are going through a phase of extraordinary productivity. However in reality their existence, was one of terminal decline. 'Holidays in the Sun', written in Berlin during a brief sojourn from being the British
betes noires.
The single's sleeve was ripped off from the artwork for a Belgian tourist brochure, is being released in a special picture bag with lyrics superimposed over cartoons of a happy family on holiday. Original plans were to have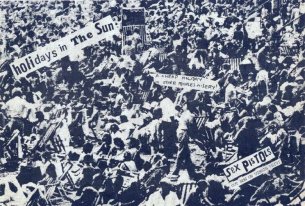 "Bodies," but Virgin shied away from the song because of the censorship problems EMI had. The safer choice was "Holidays In The Sun" and "Satellite." The single probably their weakest to date was really a trailer for the group's album, titled 'Never Mind the Bollocks...Here's the Sex Pistols', and due for release at the end of the month. There were already advance orders in the UK of 125,000. For the full review go
HERE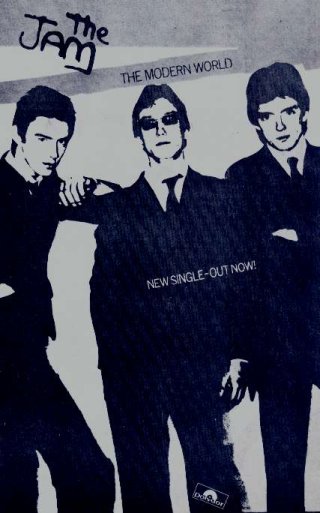 CBGB's, New York, USA
While The Jam hit the New York punk mecca tonight, back in England they've unleashed another energetic 45, "This Is The Modern World". It's flipped with 3 live tracks recorded at their recent 100 club gig on September 11th. "B" side tracks include two soul classics "Sweet Soul Music" and "Back In My Arms Again," with a little portion of their own "Bricks and Mortar" thrown in to boot. The "A" side is the title track from their forthcoming LP, due out in November.
SOUNDS OCTOBER 15TH
The Stranglers 'No More Heroes reaches Number 2 in the National Album charts and the 45 is heading up the singles charts at 13, as the Clash come straight in at 28. Also in today's edition of Sounds magazine features interviews with The Clash and Janie Jones, John Cooper Clarke, Jonathon Richman, Johnny Curious And The Strangers, Ian Dury, plus interviews with two of Punks most unhappy drummers, Jerrry Nolan and Rat Scabies. Rat particularly shows his disenchantment with the whole scene claiming...

'The punk thing has become the quickest sell-out I've ever seen. Now it's completely run by businessmen. It's just a trend to make money out of. That was one of the main things getting me down. Instead of Boring Old Farts, we had Boring Young Farts. We were all getting fat, especially me and the Captain. Suddenly we were on £50 a week when we were used to a tenner on the dole. We had it easier than we'd ever had it in our life and with that the desperation went.'
Alternative Chart October 15th 1977
1 COMPLETE CONTROL, The Cash, CBS (5664)
2 LOOKING AFTER NO. 1, Boomtown Rats, Emign (ENY4)
3 NO MORE HEROES, The Strangles, United Arttoto (UP 36300)
4 YOUR GENERATION, Generation X, ChrfiaUi (CHS 2165)
5 PROBLEM CHILD, The Damned, Stiff (BUY 18)
6 SHE'S A WDSDUP, Dr Feelgood, United Artiste 12" (UP 36304)
7 SLOW DEATH, Flaming Groovies, United Artist* EP (OEM 406)
8 ANARCHY IN THE UK, Sex Pistols, Glitterbat (import) (640112)
9 AINT BEEN TO NO MUSIC SCHOOL, The Nosebleeds, Rabid (TOSH 102)
10 GLORIA, Patti Smith, 12" (135)
11 DANCING THE NIGHT AWAY, The Motors, Virgin 12" (VS 18612)
12 SEARCH AND DESTROY, The Dictators, Asylum 12" (K13091)
13 EGYPTIAN REGGAE, Jonathan Richman, BaerUej (BZZ2)
14 LITTLE GIRL, Mink DeVille, Capitol (CL 15942)
15 GARY GILMORE'S EYES, The Adverts, Anchor (ANC 1043)
16 COKAINE IN MY BRAIN, Dillinger, Bbck Swan 12" (BS7)
17 FOR ADOLPHS ONLY, The Valves, Zoom (Zuml)
18 WHERE HAVE ALL THE BOOTBOYS GONE, Slaughter and the Dogs, Decca 12" (LF 13723)
19 THE YOUNG ONES, The Secret, Arista (142)
20 SMALL AXE, U-Roy, Virgin 12" (VS 18712)
21 DO ANYTHING YOU WANNA DO, The Rods, bland (W1P6401)
22 ANIMAL JUSTICE, John Cale, Illegal 12" EP (IL 003)
23 SEX & DRUGS & ROCK 'N' ROLL, lan Dury, Stiff (BUY 17)
24 LITTLE JOHNNY JEWEL, Television, Ork (Import) (81975)
25 RAMBLES' ROSE, Wayne Kramer, Stiffwick (DEA/SUK 1)
26 PLAY WITH FIRE, Mick Farren, Ork (Import) (81980)
27 NO MORE ROCK AND ROLL, Tractor, Cargo (CRS 002)
28 SUFFICE TO SAY, The Yachts, Stiff (BUY 19)
29 ANTI-SOCIAL, Skrewdriver, CUswkk (NS18)
30 ENEMIES, .Radiators from Space, Chinrick (NS19)
301/2 NELLIE THE ELEPHANT, Mandi Miller. EMI
Supplied by Vibes Records and Tapes, 3 Pricess Parade, Bury, Lances
Tel: 061 764 3013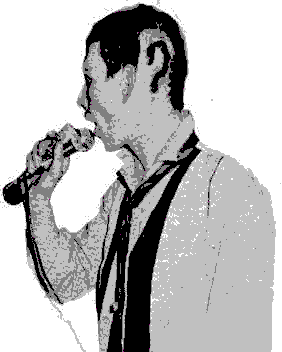 THE UNWANTED
are the latest band to be picked up by Raw Records. Their debut 45 is "Withdrawal/1984" b/w "Bleak Outlook." The band was a regular feature down at the Roxy Club and appeared on the Live album. These studio tracks debut their new postman turned guitarist, twenty year-old Dave Lynch who replaces Paul Gardner. Lead singer Ollie Wisdom goes on to front Goff scene stealers Specimen in the 80's. Heriot Watt University, Edinburgh
THE DRONES

Queens Hall, Leeds




ADAM & THE ANTS

Eric's, Liverpool




University Union, London




BETHNAL

Casino, Wigan




Polytechnic, Portsmouth




THE TICKETS

BAZOOMIS

The Roxy, London




ALBERTOS Y LOS TRIOS PARANOIAS

'Sleak'

Roundhouse, London




STAGE FRIGHT

Victory Club, Nottingham




FRUIT EATING BEARS

University Union Ballroom, Southampton

THE MODELS

THE KILLJOYS

University, Manchester




Circles, Swansea




ALTERNATIVE TV

NEO

SPITFIRE BOYS

The Bell, London




THE SNEAKERS

Marquee, London




WIRE

Red Cow, London




Barbarellas, London




SQUEEZE

MENACE

The Broadway Queen, Deptford , London




THE CRABS

Headland Ballroom, Bude




University, Newcastle




THE SKUNKS

Polytechnic Of Wales, Treforest