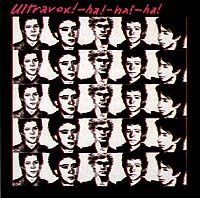 "Ha! Ha! Ha!"(Island Records)
Ultravoxís second and let's face it, punk album. Recorded in the Summer of 77, with the Jubilee, The Pistolís God Save The Queen riding high and the explosion of new music hitting the scene, it was no surprise that this rubbed off on the band as they went into the studio to record the follow up to Ultravox ! The guitar sound is certainly brasher, the music has a certain rough edge to it, and the artwork [particularly for the singles Young Savage and ROckwrok] grabs you by the throat and pogos you round the room. Running to 34 minutes and 44 seconds, itís a trifle too long to be a true punk album though!
'ROckwrok' kicks off the album. Iíve always thought of this as a plain old rockíníroll number and never really listened to the lyrics. But after reading Al Crawfordís review of this album, yes, it really is a tale of sexual hedonism that would get banned from the radio if it ever got the airplay. 'Frozen Ones' starts with nothing but clicking fingers, sparse vocals and builds up into huge thrashing guitars. The Buzzcocks with brains, even. 'Fear in the Western World' continues in the same vein, with a shouted 1-2-3-4 intro, punkish vocals that old ladies and vicars would find offensive and a guitar riff that digs right in. Then the mood changes completely with Distant Smile. A piano intro that seems to go on forever, before two and a half minutes itís back to the loud guitars and another strong riff. This track lasts for five and a half minutes -- in the 1977 age of three minute heroes that was an eternity!
Track Five is 'The Man Who Dies Every Day', one of the classic early Ultravox songs, where everything just seems to gel into one spectacular whole. This leads into 'Artificial Life', another five minutes of strong guitars, intelligent lyrics about alienation, self-disgust. Powerful stuff with itís ďIíve learned to be a strangerĒ lyrical motif. While Iím Still Alive continues the work in the same vein, leading into the albumís fabulous conclusion.
If there is a God of music, Hiroshima Mon Amour should have been the track that sent Ultravox to the top instead of the classic 'Vienna' several years and personnel changes later. Warren Cannís got the electronic percussion that would become the bandís trademark; and there's a mournful saxophone to go with Foxx's inspired vocals.
Itís incredibly beautiful, touching music and a stark contrast to the rest of the album
. You wouldnít get that kind of thing on ďNever Mind The BollocksĒ A fine pointer of things to come, both for Ultravox and for Foxxís solo career.. 'Ha Ha Ha' was never my favourite album until I listened to it again recently and rediscovered it in a whole new light. That difficult second album turned out quite well in the end. Julian Cope in his autobiography accused Ultravox ! of being ďart school punksĒ. Thatís his own criticism, but if they can make such a fine sweep of musical styles, all well and good. And the album covers are better and probably count towards course work as well.
Alistair Coleman
Track Listing :
ROckwrok
Frozen Ones
Fear in the Western World
Distant Smile
Man Who Dies Everyday
Artificial Life
While Iím Still Alive
Hiroshima Mon Amour
Recorded at Phonogram Studios, late Summer 1977.
Produced by Steve Lillywhite. Island Records